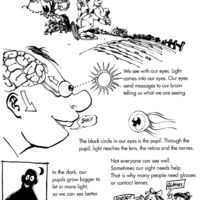 CLIL - Photocopiable
The Five Senses. 5 pages to read, colour and use as a starting point for further activities! Enjoy them!
Sight. Smell. Taste. Sound. Touch.
The Universe. 4 photocopiable CLIL pages. Read & colour. Enjoy & learn.
The universe. The sun. The moon. The solar system.
The Water Cycle. Geography and Science in English? Yes, please...
Plants are living creatures. The water cycle.
Animals. Children love animals. Four CLIL pages about animals, from the present and from the past.
Mammals. Reptiles. Dinosaurs. Build a model dinosaur.
The Earth. What is earth?Take a closer look...
The Earth. Make your own volcano.